Offering allied with vCISO
Contents of the document are as follows-
Offering allied with vCISO followed by its roles and responsibilities and benefits of the services offered to clients.
Offering allied with vCTO followed by its R&R and client benefits
Offering allied with vCIO followed by its R&R and client benefits
A vCISO ( Virtual Chief Information Security Officer) is a contractual security practitioner who contributes their time and perspicacity to an organization on an ongoing basis, usually part-time or through telework.
InventOnUs expert vCISO's aid in mitigating your organization's cyber security risk and your organization can be benefiting from an individualistic expert accustomed to the challenges of managing information across industries and further will be responsible for achieving the security and confidentiality of your existing cyber security architecture.
Our vCISO can help you draft and execute security maps and procedures, organize and contrive robust ISMS and regulatory compliance, analyze your security architecture, and host security steering panel meetings.
Penetration testing is a crucial element in every Information Security Program and is part of our vCISO service offering. Besides our vCISO offering include IoT security, data lifecycle management, and numerous services.
Web application vulnerabilities are the outcome of a dearth of input/output fumigate, which is often misused to both manipulate source code and obtain unlawful access.
InventOnUs offers an entire suite of web application and network security solutions same as for your best android security applications, and mobile security applications.
Roles and responsibilities
Evaluation of Information Security strategy including 3rd party services Analysis and advancement of Security Policies and Procedures
Accomplishing compliance with industry standards such as the ISO27000 and PCI DSS
Preparing security testing, assessments, and reports through the internal audit
Strengthening and implementing a threat and risk management strategy
Ensuring security products and services
Recruiting and instructing IT engineers and security personnel
Responding to and ameliorate the breaches
Benefits of the services to the client
Expertise – vCISOs Bring Years of Knowledge
Our vCISO's provide instant value because of their abilities and expertise in both the industry and security side, which is a decisive combination for an efficient vCISO. They hold an established network that can act as an extensive resource for you and your team. Not to mention that they also act as mentors to your security team and are astonishingly versatile to your needs.
Cost-Effective – a Full-Time CISO is Not Required
Our vCISO does not require any privileges nor will there be onboarding required, which saves you time and resources. Not to mention that you will only compensate for what you demand.
Flexibility – Operate on the Projects as You Need Them
Our vCISOs are always on-call and are ready to help whether on-site or off-site, based on your necessities and your agreement who are astonishingly scalable, having an immense network of professionals they can expand if necessary.
Enhance Your In-House Team – Reallocate Time & Resources
With our vCISO shouldering the necessary responsibilities, you will be now free to completely utilize your in-house team. Our vCISO can guide and mentor your junior members of the team, you have more time to strengthen your security rather than killing all your time putting out fires, besides designating the budget savings to much-needed reforms.
vCTO offering
A vCTO (Virtual Chief Technology Officer) is a C-Level tech exec who functions as an external, fractional IT specialist for an organization and is responsible for technologies that run a business externally.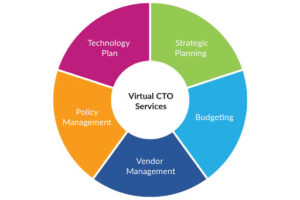 Our expert vCTO stands by as a part-time member of your team who will examine and improve your current IT infrastructure and make recommendations to reinforce your current framework, you have the potential of their knowledge at your disposal.
InventOnUs vCTO can design a long term technology strategy for your business, or rapidly execute new HW / SW systems or network infrastructure by outlining a robust deployment roadmap while securing a seamless shift that's lucid to your day-to-day business.
The pursuit of digitized transactions, the voyage of storage and compute functions to the cloud, and virtualized environments are all lauded as advanced enabling technologies, but is it a fit for your company? Our vCTO holds informed of all business technology advancements and has the expertise and perspicacity to advise on the explicit technology stack to adopt based on your requirements, your objectives, and your resources.
Being security major havoc – Our SOC as a service offering will provide you a significant number of advantages which comprise of:
Spend time organizing security, not technology and merchants
Have anticipated spending – no need for surprise fund requests
Get security perspicacity from other organizations
Control alerts more efficiently and with doubled anticipated results
Have the coordination and keep pace with your ever-changing organization's IT demands
Stay ahead with innovations in today's security mechanisms.
Roles and responsibilities
A vCTO builds technology to trade to clients
Toils as the company's head technology architect
Administers the organization's engineering club
Employs technology to magnify the company's product offerings
Converges on external customers i.e. clients
Colludes and directs vendors that furnish solutions to heighten the company's products
Regulates the company's product architecture with business preferences
Advances strategies to boost the company's revenue
Benefits of the services to the client
Lower expenses
–  By having our vCTO on your team you can calibrate the technology strategy services based on the prevailing demands and resources.
Diversity of expertise
–  In InventOnUs' virtual CTO offering you don't engage and converse with simply one professional. You will be having access to our senior technology team together with our CTO and directors of the development, IT infrastructure, and network architecture.
Sundry of experience
–  InventOnUs presents you the experience of varied individuals with our Virtual CTO offering, you get the benefit of beyond 80 years of cumulative expertise in organizations extending from a fortune number of corporations to startups.
vCIO offering-
 A vCIO (Virtual Chief Information Officer) is a tech exec who avails consultation for your technology strategy as a third-party, who operates as an internal, fractional IT professional for an organization as opposed to an in-house CIO and is responsible for technologies that grow the business internally.
Our vCIO provides accurate benefits you demand to advance your business by collaborating with your team and implements strategic consulting services and cost analysis concerning IT and cloud infrastructure. Further assists your firm in developing the blueprint for the IT strategic plan using up-to-date applications, software, and support.
Having our vCIO will benefit your business in technological elevation which runs as per its requirements and objectives and relieves the company owners from the great demands and strains allied with the board and management of the firm besides accomplishing the objectives with confined internal resources. The vCIO, in effect, unfolds an opportunity for the hired staff to allot their focus in succeeding in their principal responsibilities.
Our vCIO offers web application security, vulnerability assessment and security awareness training to the company's personnel and further, our information security analyst provides you with information security services and information security audits.
Roles and responsibilities
vCIO focuses on directing infrastructure for business operations.
Toils as the company's top technology infrastructure supervisor
Administers the organization's internal IT services
Acts to streamline business processes with technology
Converges on internal customers i.e. users and business units
Colludes and directs vendors that supply infrastructure solutions
Regulates the company's IT infrastructure with business preferences
Promotes strategies to enhance the company's profitability
Benefits of the services to the client
Augmented IT infrastructure
– IT infrastructure is a closed-system comprising computers, data centers, hubs and routers, firewalls, operating systems, servers, and correlating servers, applications, software on customer relationship management (CRM) as well as other applications designated to reinforce efficiency and productivity.
All these parts are interconnected and an aberration in one can influence the performance of the complete system. One of the most realistic ways to counter this is by owning a virtual CIO.
Tailoring their strategies based on the demands of the company and market demands, our vCIOs build a secure system that guarantees the efficiency of the company's IT infrastructure and supports everyday processes. Besides, our VCIOs also assist managers to understand the most novel trends in cloud computing and mobile solutions, the influence of these technological innovations on the firm's operations, and its potential in driving profit and revenue.
Shield from online hacking, data breach, and cybercrimes
– Big organizations may have been victims of online hacking and data breaches, nevertheless, small and medium-sized organizations served as the elemental target of cyber security attacks.
Our vCIO is qualified to counter and respond to cyber security attacks. besides, guidance and recommendations catered to the client, our virtual CIO also proactively monitors and defends the company's network and complete IT infrastructure. Further establishing advanced firewalls and security solutions, and steadily keeping track of its performance, our vCIO holds the capability to prevent ransomware, viruses, and spam from hitting the business operation.
Data backup and recovery
– Having our vCIO who assists in developing data recovery and back-up plans is a significant benefit. Our service comes with a space in an offsite server where the firm's data and information are deposited and given the best security by the IT agency. Our virtual CIO formulates a private cloud similar to the system the company has on-site. Synchronically with the support of the IT agency, our vCIO makes sure that coherence and stability are existing in the client's business efforts, primarily in the face of IT disasters.